What I've Read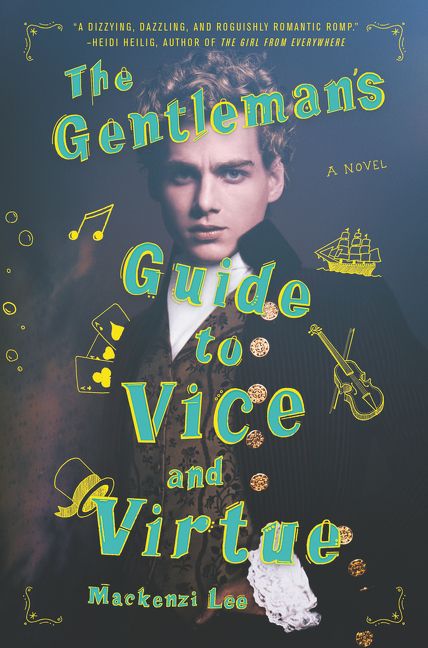 A young bisexual British lord embarks on an unforgettable Grand Tour of Europe with his best friend/secret crush. An 18th-century romantic adventure for the modern age written by This Monstrous Thing author Mackenzi Lee—Simon vs. the Homo Sapiens Agenda meets the 1700s.
Henry "Monty" Montague doesn't care that his roguish passions are far from suitable for the gentleman he was born to be. But as Monty embarks on his grand tour of Europe, his quests for pleasure and vice are in danger of coming to an end. Not only does his father expect him to take over the family's estate upon his return, but Monty is also nursing an impossible crush on his best friend and travelling companion, Percy.
So Monty vows to make this yearlong escapade one last hedonistic hurrah and flirt with Percy from Paris to Rome. But when one of Monty's reckless decisions turns their trip abroad into a harrowing manhunt, it calls into question everything he knows, including his relationship with the boy he adores.
Witty, dazzling, and intriguing at every turn, The Gentleman's Guide to Vice and Virtue is an irresistible romp that explores the undeniably fine lines between friendship and love. (Book's blurb from Harper Collins)
I recently finished The Gentleman's Guide to Vice and Virtue by Mackenzi Lee. I have seen The Lady's Guide to Petticoats and Piracy on many top ten lists for 2018, so I thought I would see what all the fuss about. Everyone seems to LOVE these books.  I finished The Gentleman's Guide to Vice and Virtue and I am not quite sure what all the fuss is about. Yes, the characters are likeable and flawed – which makes them interesting and relatable. Yes, the book is well written and at times quite amusing. BUT there is so much going on in this book – from highwaymen to piracy to everything in between. I don't mind ending a book on a note of hope, but it kind of felt like the whole book fell down with the ending. To be perfectly honest, I was tired of it before the conclusion – there was TOO much going on and it left me feeling quite exhausted. I am reading the next book The Lady's Guide to Petticoats and Piracy and I am hoping that it focuses more on the character of Felicity. Maybe my expectations were too high because I have seen these books everywhere. Perhaps I like books that develop character rather than lots of action. Let's see how I feel after I finished the second book.
What I'm Reading
Well, I decided to read the Lady's Guide to Petticoats and Piracy by Mackenzi Lee. Why, after I found the first book so exhausting? I did enjoy the character of Felicity. She was feisty, witty and intelligent. I also find that time period when a woman wasn't allowed to pursue medicine as a career fascinating. Any job was pretty much off-limits for women. I am curious to see where this book goes and if we learn more about how women cracked the world of medicine. Though I have read the blurb and I am thinking that it is going to be similar to The Gentleman's Guide to Vice and Virtue. In saying that, from the little I have read I have enjoyed.
What I'm watching
After a lot of reluctance, I started to watch Schitt's Creek and I have fallen in love with this show. The cast is gorgeous, eccentric and unpredictable. At first, I thought this would be tired and predictable, but it hasn't been. There have been times that as a viewer I have been quite proud of these characters and their growth (and I've even shed the odd tear). Schitt's Creek has told a very deliberately paced story. Episode one began with a family of newly broke millionaires arriving at their one remaining asset; a backwater town they bought for their son as a joke. And, as such, it was a mostly predictable comedy of contrasts. The family looked down their noses at the residents, who in turn sneered at the family's lack of real-world knowledge. I love watching this show. One of the reasons I like it though is because it is so inclusive. It is breaking stereotypes without banging you over the head. It shows you people being accepting of others who are different, not just accepting but inclusive. Schitt's Creek is heartwarming, funny and generous. If you haven't watched it yet, you should.
What I love (and hating)
I have terrible feet and a few years ago went to a podiatrist who wanted me to wear orthotics. I haven't resorted to the orthotics yet, but I did realise I had to wear "sensible" shoes. He explained to me the type of shoe I should be wearing. Before this, I had many, many, many shoes – shoes that I am now unable to wear. I thought I could wear them occasionally but I can't. When I wear shoes that haven't received a podiatrist tick my feet ache. It feels like I have a piece of glass in my foot. The thought of wearing sensible podiatrist ticked shoes filled me with dread. I ventured off to my local Ziera shoe shop and found that they actually have some lovely (and even cute shoes). I don't have as many shoes as I did have because these types of shoes are costly (but worth every penny). The reason I write this is because everywhere I look I see Instagrammers/Bloggers spruiking Frankie4 shoes. I am not particularly fussed on Frankie4 shoes. I don't think they are as comfortable as Ziera shoes. I don't believe that they hold up as well and from my experience, I don't think the level of customer service is as high. And I am kind of tired of women who don't need podiatrist ticked shoes telling me how fabulous they are. Though I think I reached my peak when I saw someone who is always spruiking something spruiking Frankie4 and it just felt like she was looking for some sort of sponsorship. If you want stylish, comfortable and podiatrist ticked shoes, you can't go past Ziera shoes.