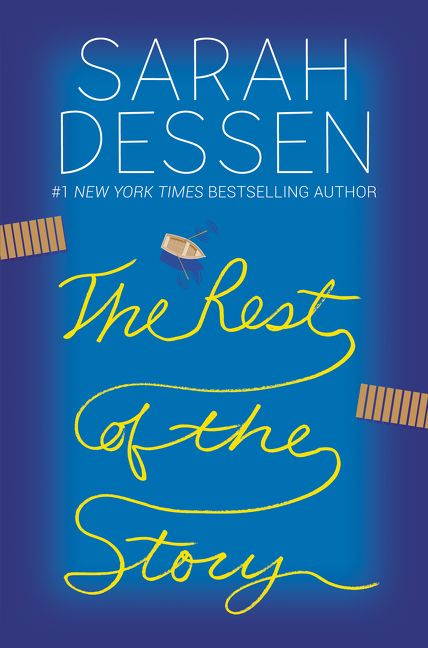 Author: Sarah Dessen
Publisher: Harper Collins
I had forgotten how much I enjoy a good Sarah Dessen novel. Once you start reading and get immersed in a Sarah Dessen book, you feel like you are being enveloped in a big hug. It all feels so familiar, yet Dessen still manages to make every book different.
Reading Dessen is like taking a summer holiday in your favourite location. She writes about summer so beautifully. Summer always feels like it is full of possibilities – no matter what age you are, but particularly when you are a teenager. I do think Dessen has captured this feeling in The Rest of the Story.
Once I was immersed in this book, I really started to enjoy it. To begin with, I felt a little lost with the book, but once I began to get my head around all the characters, I couldn't put the book down. I hope that Sarah Dessen writes another book with these characters because I felt like we only touched on their lives and I would like to know more about Bailey, Trinity, Jack, Mimi, Oxford and so on.
The book centres around seventeen-year-old Emma, who is being sent off to stay with her mother's family for three weeks while her father honeymoons with his new wife.  When we are introduced to Emma we learn that she has anxiety problems, most likely stemming from the fact that her mother was an addict who died of an overdose and that her father has anxiety issues of his own arising from his relationship with Emma's mother. This is where I thought the storyline was flawed. I know Emma wanted her father to go off and enjoy his honeymoon with his new wife, but I would imagine this would have been a somewhat stressful situation (going to live with family members who you haven't seen in thirteen years and barely remember) and her anxiety would have been in peak overdrive. Dessen does then begin to introduce a slew of characters, so I guess Emma (like the reader) is so overwhelmed by all the characters that she doesn't have time to be too anxious about her situation.
Emma finds herself immersed in her mother's world. Her mother told her stories of the lake and Emma remembers that the stories always made her feel safe and happy, but she doesn't remember actual specifics. Emma's mother's family runs an inexpensive motel on the working-class side of the lake named North Lake. The other side of the lake is called Lake North and belongs to the wealthy tourists – even the teenagers who work on Lake North are rich and privileged. Emma's father worked as a sailing instructor at Lake North and this is how he met Emma's mother.
Emma, herself, has led a life of opportunity and advantages and despite losing her mother to a drug overdose has never really had to struggle in life. Her father's family obviously has money and Emma has never had to think much about money. Suddenly Emma finds herself in a world where everyone thinks about money, their jobs and paying bills. Despite her differences with her mother's family, Emma finds a place working and socialising with her quirky and unpredictable cousins and their friends. She is starting to understand her place in her mother's family and she is learning more of her mother's story and in turn, her story.
Her sense of belonging though is suddenly interrupted when her father arrives with his new wife and his mother and Emma is expected to go stay in the ritzy resort on the other side of the lake. Emma's world is once again turned upside down and she worries that the story she was only beginning to understand will be lost to her again.
I enjoyed this book, but I wanted more. I felt like I only started to get to know the characters and their stories when the book finished. I also felt like there were lots of stories I didn't get to know. I wanted to learn more about Mimi, Oxford, Celeste, Jack, Taylor, Trinity, Gordon and so on. I wanted to know more about Roo and Emma. I also felt there was a whole story about Waverley (Emma's mother) and Chris (Roo's father) that was barely touched on – so much was left unanswered. There is a part of me that hopes Dessen will revisit these characters again, in maybe ten years. I would love to know what became of them all and I would like to immerse myself in their world once again.
"Well, you need to start asking people their five sentences…the basic idea is that since you meet a ton of people at the beginning of every summer, everyone has to condense their bio down to the main ideas. Thus, five sentences.
I love this idea of five sentences. Five sentences to describe yourself.
Born and bred here at North Lake. High school senior this fall. Work multiple jobs. Want to go to journalism school. Allergic to shellfish.

"Wow," I said. "I didn't see that shellfish part coming."

"An element of surprise and oddity is crucial with this," he told me.
What are your five sentences?? Remember you need a combination of facts, intrigue, as well as being random and memorable.