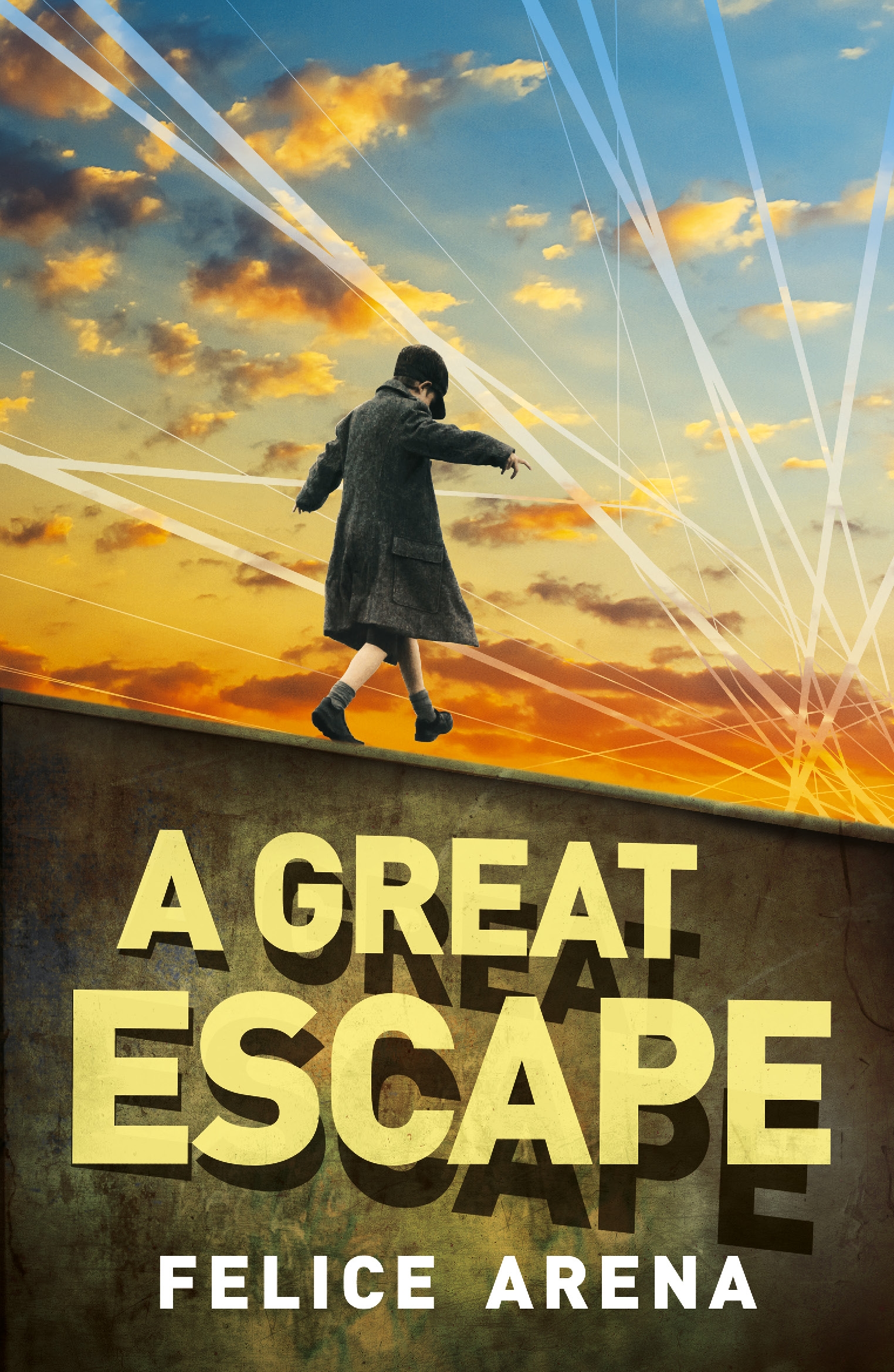 Author: Felice Arena
Publisher: Penguin Books Australia
A Great Escape by Felice Arena is another middle-grade reader. Usually, I don't write reviews for middle-grade readers, or if I do, it is for the boys at my school and not for the general public. I have always found middle-grade readers to be quite tedious and not great reads. In the past few years, though, that has changed dramatically and I now find myself reading middle-grade readers and thoroughly enjoying them.
The last middle-grade book I read was A Great Escape by Felice Arena. I liked this book – A LOT! I enjoyed Arena's last book Fearless Frederic, but  A Great Escape will push you as a reader. I love that Arena takes a decisive point in history and makes it accessible for younger readers. It is so hard to explain the Cold War and particularly The Berlin War to primary aged children, but this book succeeds in doing this.
Peter's father works in West Berlin, but Peter and his family live in East Berlin with his grandparents. His parents have decided that the whole family (including his grandparents) will move to West Berlin to live. Peter is meant to go with his mother and sister for the day to look at accommodation in West Berlin. Peter is playing with his friends and his mother leaves him behind in frustration and goes to West Berlin with her daughter – thinking that she will be only gone for the day. It is this moment in time that will change Peter's family's whole life.
In just one day the border becomes impassable. A temporary barbed wire fence is constructed and is guarded by soldiers. The barrier is impenetrable. Suddenly Peter is in East Berlin with his grandparents and his parents and sister are in West Berlin.
Of course, Peter becomes determined that he will make it across the wall and starts to plan his escape. In his planning and attempts, he witnesses many disconcerting scenes of escapes that are unsuccessful. Peter soon realises that escaping will not be quite as simple as he thought it would be and an unsuccessful attempt will either end in death or imprisonment.  Not only does Peter witness unsuccessful attempts, but he also witnesses and hears of successful efforts.
A Great Escape has all the elements of a novel that boys will love – historical facts, daring ingenuity and a likeable protagonist.
I have to admit that this book stayed with me for a long time after I read it because even though I knew about The Berlin Wall and I studied it at school and university. I only knew the facts. I knew the politics behind the wall. I never knew that for twenty-eight years families and couples were separated. So many people were separated from the ones they loved. There were real people like Peter and his little sister who were separated for twenty-eight years. One day, like so many others, couples kissed each other goodbye for the day – one went off to work in West Berlin and the other stayed in East Berlin and then a wall was put in place and that couple were separated. I wondered how the reunions were after twenty-eight years. I wondered how a young boy like Peter grew up. I wondered how his sister grew up. The conditions in  East Berlin deteriorated as the years passed. Was their resentment after the initial joy?
Felice Arena has captured a time in history that should not be forgotten but more than that he has taken facts and created a gripping and emotional narrative. He gives us a story that is so much more powerful than the facts.
I would recommend this book because it opens young people up to a pivotal point in history — a time that should not be forgotten and a reminder that building walls are not a solution.