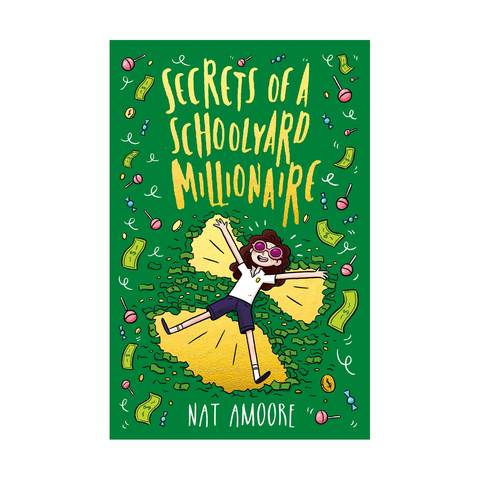 Author: Nat Amoore
Publisher: Puffin
Tess Heckelston is the heroine that younger readers need. She is feisty, intelligent, witty and has an active entrepreneurial streak. Boys and girls alike will love her and her best friend, Toby.
What I loved in particular about Tess was her advice-giving. Throughout the book, Tess gives her young readers tips on life.
Tip 9: THINGS ARE CLASSIC FOR A REASON. Don't get me wrong – I'm all about bigger, better and faster. I can't imagine a world without the internet, or Google, or online banking, or Spotify. But Dad has shown me how to appreciate the old stuff too. Music, movies and, most importantly, business. While I totally love entrepreneurs like Alexa Hirschfield and Daniel Ek, I have learnt heaps from old people like Richard Branson and Oprah Winfrey. If something is old and we still know about it today, there's a reason why it's stuck around. It's probably pretty good.
Some of Tess' other tips include— 'use Google' to 'your people are everything', 'learn from your mistakes' and 'own your decisions'. I am sure a lot of young readers will take these tips to heart (well, I hope so!).
Tess lives next door to a dodgy character named Scotty. One day the police arrive at Scotty's house and Tess sees him place a bag in her treasure chest just before he gets arrested. In this bag is one million dollars. Of course, Tess (who we must remember is only ten years old) believes the old adage of finders keepers. Tess has spent her whole (short) life coming up with schemes to make money and suddenly she has been gifted one million dollars. The book then proceeds to follow Tess and her best friend Toby as they decide the best way to spend a million dollars.
But of course Tess is only ten years old and she soon realises that spending one million dollars when you are ten years is quite difficult to do – even when you want to spend the money on good causes. Nothing puts adults on high alert more than a ten-year-old kid throwing cash around.
Tess and Toby find themselves on quite an adventure as they try to spend their one million dollars and of course they find themselves in some interesting dilemmas. Secrets of a Schoolyard Millionaire could have been entirely predictable, but it isn't. Nat Amoore has created a book that is fresh, fun and original.
Secrets of a Schoolyard Millionaire is a brilliant book and Tess is the perfect heroine for young readers. It is a dynamic, thoughtful and extremely intelligent middle-grade reading. An enjoyable rollicking romp.