Author: Fleur Ferris
Publisher: Puffin
I have always enjoyed Fleur Ferris' young adult novels and was delighted to see that she had written a book for younger readers. I had high expectations for this book and Ferris did not let me down.
The book is set in a town called Nullaboo and our young protagonist is Gemma Hart. The story opens with Gemma waiting to see what topic she will receive in the science competition. Her heart is set on butterflies, but that topic goes to Nina (last's year competition winner). Gemma's topic will be march flies. To say that Gemma is disappointed is an understatement. How can she possibly beat Nina in the science competition when her topic is march flies. March flies!!
Gemma's mother is an entomologist and has lent Gemma her bug catcher which magnifies things two hundred and fifty times their size and has a microphone and earbuds. Gemma heads off with her bug catcher to catch some march files, but instead of finding march files Gemma captures a fairy. A fairy named Janomi. A fairy who needs help. Fairies aren't supposed to talk to humans and so Janomi is breaking many rules by seeking out Gemma's help. Her grandfather has been captured by silver spiders and she needs Gemma's help to find and rescue him.
Gemma's bug catcher records this conversation and Nina finds it and uploads it to the Internet. Suddenly there's hullabaloo in Nullaboo. Nina's small town finds itself the centre of a media frenzy. A secret government agency barges in to take control and suddenly the fairy colony that Gemma promised to protect is under threat.
There's so much to love about this book. Gemma is a charming character. Beautifully innocent, funny and so, so likeable. Gemma's family are gorgeously eccentric. You will also fall in love with the people of Nullaboo.
Ferris has always written rural communities so beautifully – how they pull together when one of their own is in crisis. She continues this theme with Nullaboo Hullabaloo.
I love that the fairies (just like humans) are snarky towards each other. I love that Gemma's family have their own problems, but when it is needed, they pull together. I love that the book is full of humour and love.
I love how Ferris uses language in this novel. From the secret government agency being called DUD to Gemma's mother's nemesis being called Colin Snider.
What I love the most though that this is a story about heart. Once you finish reading this book, you will feel happy. This book made me smile and it made me feel good.
Yes, this is a story about fairies, but it is also a story about community. Nullaboo Hullabaloo tells the story of a community rallying around one of their own to help them protect and save the fairies. And amazingly enough underneath all that Ferris has written about how important it is to put egos and enmities aside to help others in need.
It is a delightful book that will be enjoyed by both boys and girls. It is beautifully illustrated by Briony Stewart. The illustrations capture the story brilliantly. Let's hope that Ferris writes more stories featuring Gemma and her wonderfully unconventional family and community.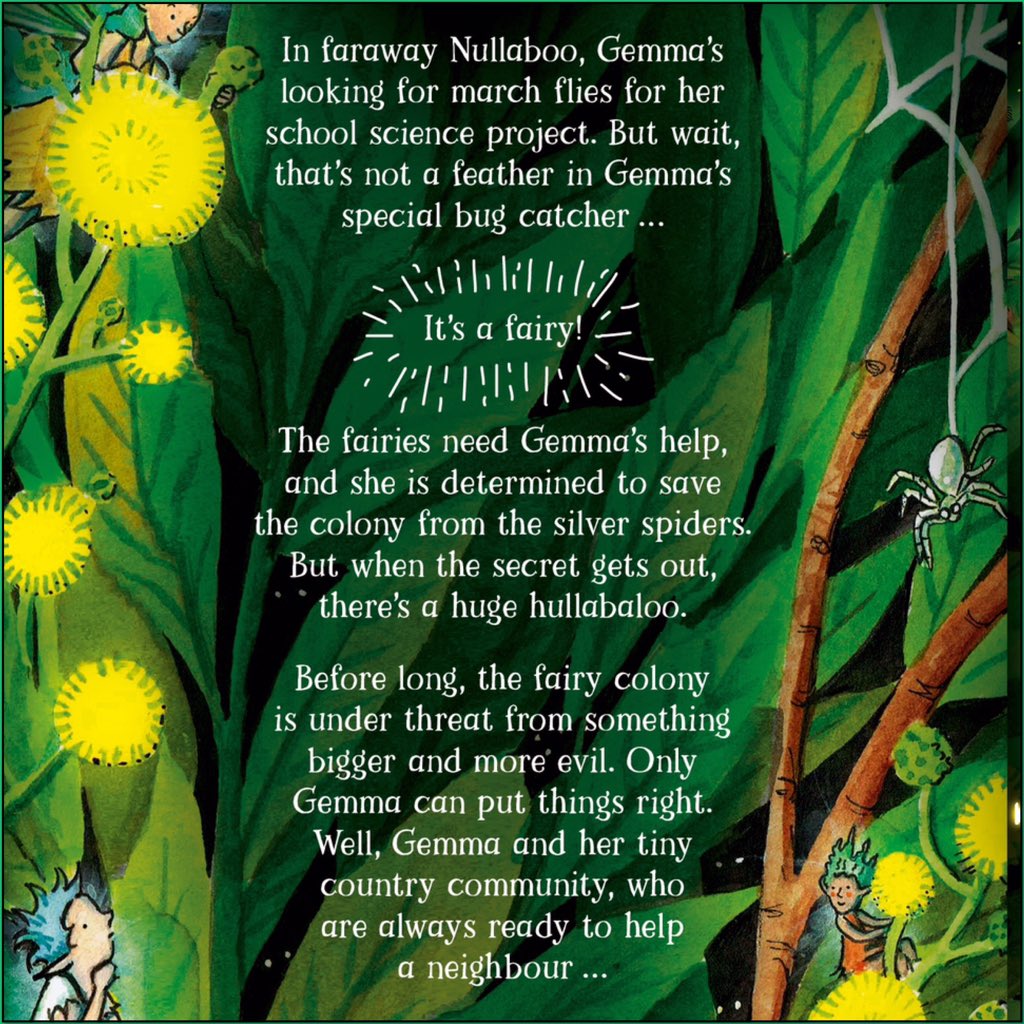 And I love all the sewing references – Janomi, Bernini, Elna and so on.